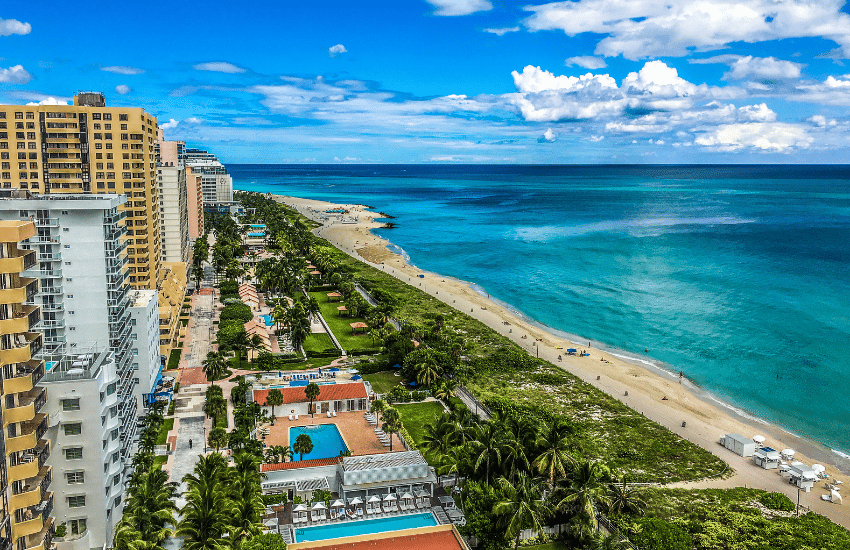 Top 10 Things to Do in Miami
IHRSA 2022 is almost here, and this year, it is being held in Miami, Florida. On top of experiencing the tradeshow and all it has to offer, you should take some time to explore the world-famous city of Miami. Here are Paramount's top 10 things to do in Miami:  
1. Visit the South Beach Neighborhood
You can't go to Miami without visiting South Beach! This is one of the most popular beaches in the area, but make sure to also check out the restaurants, museums, and shopping. There are endless things to do in South Beach.  
2. Take a Day Trip to Key West
Key West is the southernmost point in the United States. Get round trip transportation from Miami to Key West with hours of free time to enjoy yourself and plan your own excursions. The drive is scenic and crosses the famous Seven Mile Bridge. Try the Key West Express to book your day trip and other fun activities for the day! 
3. Airboat Across the Everglades
The Everglades is a 1.5-million-acre wetland ecosystem. While exploring with your group, look out for alligators, turtles, birds and other animals. There are many different companies that offer Airboat tours, but give Captain Jack's a try and receive free access to their Animal Sanctuary. 
4. Walk the Wynwood Walls
Wynwood Walls is not your usual art museum. It's an indoor and outdoor museum dedicated to street artists. The displays of street murals are enjoyed by all ages. For more information and to get tickets, visit their website.  
5. Shop at Lincoln Road Mall
If you are looking to do some shopping and grab a bite to eat, Lincoln Road Mall is the place to go! Lincoln Road is 10 blocks full of fun stores and restaurants and is a pedestrian only street. Visit their website to learn more about their shopping and dining options!  
6. Get a Taste of South Beach with a Food Tour
Visit five local South Beach restaurants while learning about the culture and history of the area. This tour is perfect for anyone, as long as you enjoy good food! For more details and to book your tour, visit TripAdvisor.  
8. Visit South Pointe Park
South Pointe Park is located at the southern tip of Miami Beach and is the perfect place for a relaxing day. Take in the views of the South Beach shoreline, cruise ships and Miami's skyline while having a picnic or barbecuing. You can also grab something quick to eat from the South Pointe Café or have a nice meal at Smith & Wollensky steakhouse.  
9. Experience Española Way
Española Way was the first commercial development on Miami Beach in the early 1920s and was designed after villages in France and Spain. Today, it's a pedestrian only street with tons of restaurants, cafes, hotels and shops. Visit their website to learn more about what Española Way has to offer.  
10. Explore Little Havana
Little Havana is the place to go to for a cultural experience. You will find Latin-inspired restaurants, bakeries, cigar shops, music and more, while being surrounded by vibrant murals and other artwork. Cuba Ocho is a crowd favorite for seeing live music and the largest collection of Cuban art outside of Cuba.  
Come visit Paramount at IHRSA booth #652! Mention this blog for a special gift. Can't wait to see you there!